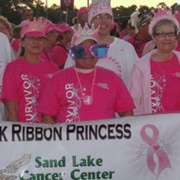 Pink Ribbon Princess Foundation is dedicated in helping cancer patients pay for their insurance premium or for their cancer medications that will ultimately save lives. After personally experiencing my own ordeal with Cobra and insurance not covering certain cancer meds, I realized that I was not alone.
Something has to be done. With the help of funding, the goal of Pink Ribbon Princess is to ensure that no one will be denied cancer medication. The Board of Directors will graciously consider everyone's request for assistance in hopes that no one will be turned away.
As you know, being diagnosed with cancer has a devastating emotional and financial effect on both the patient and their families. Pink Ribbon Princess Inc. is a non-profit organization that is dedicated to seeing that patients continue to receive all the medical care that they require during the course of their treatment. Our organization will assist patients in getting medications, paying for insurance co-pays, and/or insurance premiums.
Your contribution will directly impact the life of a cancer patient. You play an extremely important role in providing financial assistance. Your effort will also give an encouraging and positive reassurance that relieves families at a time of great distress and uncertainty. The donation you made today will indeed lessen their financial burden.